The tractor-trolleys loaded with bricks, sand and other construction material are seen moving in and out of Sukhna Enclave and Kansal, just 1.5 km away from Sukhna lake in Chandigarh, more vigorously in the past two years ever since the pandemic struck.
Interestingly, new constructions are banned in this region since 2011 and those who have built any residential and commercial structures since then have been facing demolition.
Earlier this year on March 2, a division bench of the Punjab and Haryana High Court had passed a judgment to raze down unathorised residential and commercial structures built in the Sukhna Lake catchment area, falling in some parts of Chandigarh, Haryana and Punjab.
However, surveys of the illegal houses built in the respective states have been  held up due to pandemic.
These areas include the villages of Kaimbwala and Khuda Ali Sher in Chandigarh, parts of Kansal in Punjab and parts of Saketri in Haryana, which incidentally are close to the Sukhna lake, Sukhna Wildlife Sanctuary (WLS) and part of Sukhna reserve forest as depicted in the catchment area in Survey of India map.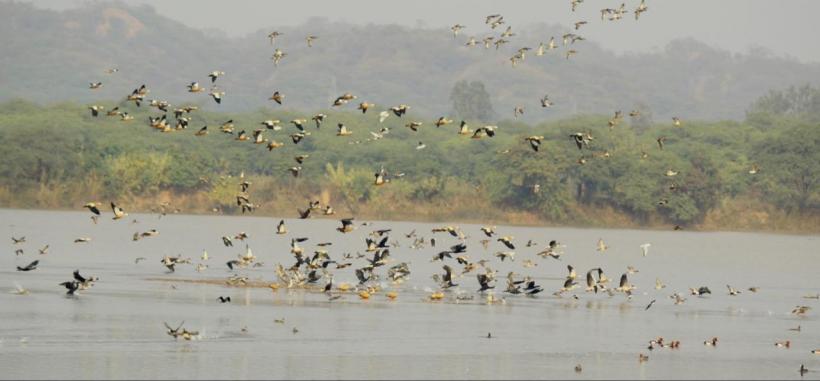 In over a decade, massive construction has changed the landscape of this entire region under the Sukhna catchment area. The land in these villages, despite their proximity to Chandigarh city and the picturesque location of lush forest area and serene lake, was cheaper than in Chandigarh. Thus it was lapped up by the high and mighty as well as less endowed, depending on the size of the plots .  Though courts have been issuing directions against new constructions in the region ever since 2011, construction has continued unabated.
The Punjab and Haryana HC had banned new constructions in the areas in its previous order issued way back in March 14, 2011, which is now considered as the cut-off date for any new constructions made in the region to be treated as illegal and unauthorised.
"It seems people are taking undue advantage of the COVID-19 situation by carrying out constructions in the prohibited areas when courts and government offices are not functioning properly. People  seem to be driven by the common thinking that nothing will happen," Madhu Sarin, noted environmentalist told NewsClick.
Meanwhile, many residents have held protests against the demolition drives after the high court's order. Harjot Singh Oberoi, president of the Kansal Residents Protection of Rights Association in Punjab, said, "We have formed  a joint-action committee which is led by Kharar MLA Kanwar Sandhu and decided to move the Supreme Court on this matter."
Kanwar Sandhu told NewsClick, "We had appealed to the public during protests not to start any new construction as this would weaken our stand before the court. I take such aberrations seriously and if brought to my notice I will inform the executive officer about it."
On the other hand, a few residents have also indicated towards the connivance of authorities which are mandated to take punitive action against those who take up construction work. But authorities prefer to sleep through it. "The officials close their eyes when their palms are greased. Or else how people one after another are indulging in illegal construction without any fear in last two years and no action has been taken against them," said a resident on condition of anonymity.
When executive officer Jagjit Singh was asked about his nonchalance on the issue, said, "I have deputed two teams led by a section officer and a junior engineer respectively, who have also  been given vehicles to  monitor  the areas. I, too, go for inspection and,  take action on the complaints brought before me."
Meanwhile, the neighbours to those pockets where constructions are going on are having a tough time. "My children are not able to attend their online classes due to noise caused by construction work all the time," said Sarita Gupta, a resident in Kansal.
Rajender Yadav, another resident of Sukhna Enclave under Kansal and is recovering from COVID-19, too, complained of stress caused by the disturbance. "In a bid to hurriedly complete constructions before the situation becomes normal and offices open up, the constructions do not stop till 12 at night every day. It is causing me so much stress and restlessness," he said.
Vibhuti Bharti, another resident pointed to constructions in four plots near the area of two-lanes. "The road gets blocked with unloaded sand and gravel. To make matters worse, I am woken up by the owner of the house under construction at 6 in the morning to remove my car from  parking area in order to give space to his  trolleys  to stack  bricks in another  empty plot. As a noble gesture, I have done it many times, but now I am finding it annoying as getting up early is like a punishment to me  as I work till late in the night," Bharti said.
In the latest order in March, the states have been heavily penalised for permitting the illegal constructions. The bench levied a penalty of Rs 100 crore each on Haryana and Punjab  as a fee for restoration of  damages in the  catchment area of Sukhna Lake.
It must be mentioned that even the Delhi HC had banned all construction activities in the Sukhna catchment area in the Camelot project in 2017. The Supreme Court in its judgment on November 5, 2019, upheld the verdict of Delhi HC of April 12, 2017 which had rejected the proposal of 95-meter high and 28-storey building project named 'Camelot' in Kansal area of the Sukhna catchment.
The Supreme Court bench has already directed both the states and Chandigarh to fix accountability for the unauthorised constructions and put erring officials  in the dock in the matter.
Punjab and Haryana governments were also directed to issue necessary notifications for declaring parts of Sukhna falling in their respective areas as wetlands for the conservation of the lake and its  fragile ecology.
(The writer is a freelance journalist.)
First published by Newsclick.