The Central Government Saturday issued a notification instructing the Central Bureau of Investigation (CBI) to take over the investigation of the reported gang rape and brutal mutilation of a 19-year-old woman belonging to the Scheduled Caste in the Hathras district of Uttar Pradesh. The deceased was cremated on September 30 in the absence of her family members.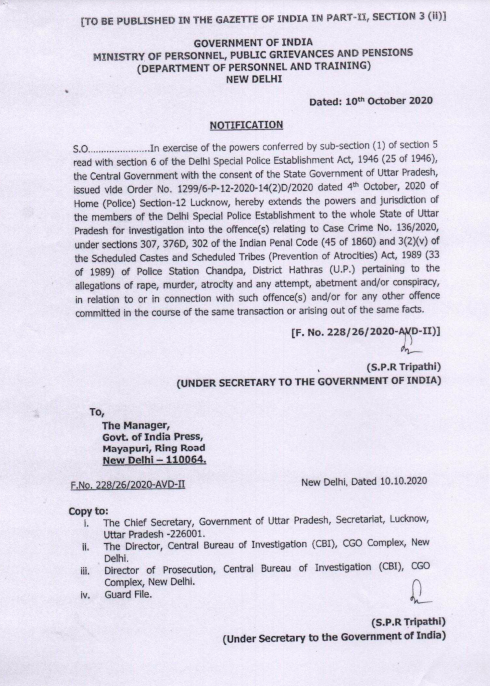 The UP Government led by Chief Minister Yogi Adityanath which has been facing a barrage of criticism over its 'high handedness' in dealing with the case had recommended the CBI probe in the matter on October 3.
Currently, the Supreme Court is also seized of the Hathras matter. A PIL seeking a Court-monitored SIT probe is pending before the Court. The plea is listed for hearing on October 15.
Earlier the Allahabad High Court took suo motu cognisance of the Hathras case. It summoned the Additional Chief Secretary/Principal Secretary (Home), Director General of Police (DGP), ADG(Law and Order), District Magistrate and Superintendent of Police (SSP) Hathras on October 12 to put forth their version with the support of requisite material.
The Court also asked family members of the deceased i.e. the father, the mother, brothers and sisters to appear before the Court so that it can ascertain the facts and their version of the incidents which took place at the time of the cremation.
It directed the State Authorities to ensure that no coercion, influence or pressure is exerted upon the family members of the deceased in any manner, by anyone.